Meet Our Donors
Vincent and Virginia Wilson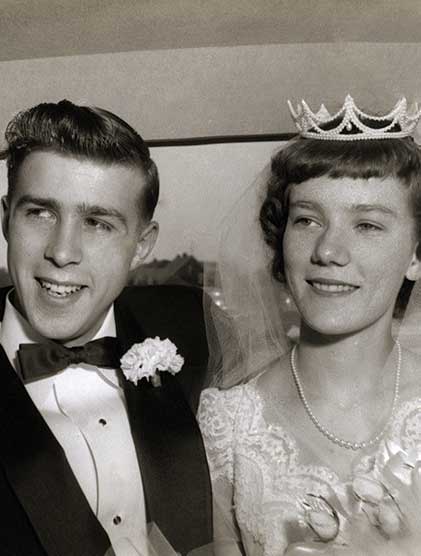 "Do not withhold good from those to whom it is due."
This beautiful and inspiring verse from Proverbs 3:27 exemplifies how Vincent and Virginia Wilson lived their lives. "They donated to charities for more than 50 years consistently, devoted absolutely to their Catholic faith," said Jim Wilson, the couple's youngest son.
Vincent was an accomplished pilot and an entrepreneur with a love of humanity. He owned apartment complexes in Detroit, Michigan and Gary Indiana, for example, communities with serious socioeconomic challenges, but that did not stop Vincent from investing there.
"Vincent and Virginia lived Christ-centered lives. They were humble, sweet people," said Jim.
"It took insight and compassion," said Tom, Vincent and Virginia's oldest son. "Dad always kept the apartments clean, updated and in good condition." Vincent also owned a local restaurant for many years that could be a drain on the family's finances, but he continued the business. "The restaurant employed a lot of local people," said Tom. "He was willing to take losses to continue to help local families put food on their tables."
Vincent's kindness prevailed even when he had been wronged. "Dad discovered that a trusted employee had embezzled thousands and thousands of dollars from him, but rather than put the single mother and her children in the street, he made sure they had a home, until the children were raised," said Tom. "Dad did not call the police, which would have punished the children for their mother's bad behavior. Dad was always trying to do the right, the Christian thing."
Virginia was equally giving and devoted to her faith. She delivered meals to the elderly and homebound for more than 15 years. Her faith was constant and unceasing. "She loved the Prayer of St. Joseph," said Tom. "She prayed it daily." She flew frequently with Vincent in his small plane, not because she enjoyed flying. She did not. "She kept one eye on Vincent as she kept a death grip on a crucifix, praying for his safety," said Tom.
Through example, Vincent and Virginia also taught their children the importance of prayer and of charitable giving. "They gave to charities when they had money and when they couldn't afford it," said Tom. This generosity continued beyond their lifetimes. Vincent and Virginia were not only charitable throughout their lives, but they selected only one charity for their ultimate gift. The National Council of the Society of St. Vincent de Paul received a major gift from their will. Tom and Jim understand the importance of this sole transformational gift. They requested a face-to-face meeting with the National Council Development staff, to more fully explain its importance.
For more information about how you can establish a legacy of giving, click here.